Wildcard weekend begins playoff season for NFL
Bills, Saints, others are favored to win
The 17 weeks are over and now starts the playoff road to Super Bowl LV and Tampa Bay begins. It'll start off with the Wildcard weekend, three games on Saturday and then three more on Sunday. With a new playoff format, the National Football League (NFL) is more than ready to get the playoff race started.
Saturday, Jan. 9 
Indianapolis Colts (11-5) versus Buffalo Bills (13-3) 
Coming into this game with a six-game win streak, Buffalo looks to continue its great season with MVP candidate Josh Allen. With the young rising number 17, I look towards Allen, Tremaine Edmunds and Tre'Davious White to carry the new AFC East champions. It's going to be interesting how the Bills defense and Coach McDermott will handle the quarterback veteran, Phillip Rivers. A new team has given Rivers a new spark in his career which helped him get back to the playoffs after two years. Although I do think the Bills will start their postseason, I wouldn't be surprised if Rivers came and crashed the party a little bit.
Prediction: Bills 24-20
Los Angeles Rams (10-6) versus Seattle Seahawks (12-4) 
Who will start at quarterback for the Rams? That's the headline for this game. If the Rams decide to start John Wolford this weekend, the offense will need to step up. Wolford and the Rams will need to score more than just field goals to win against quarterback Russell Wilson and the spectacular Seattle offense. In week 17 the Rams only scored 18 points and half of those were field goals. If Los Angeles wants to win then that can not be the case for two weeks in a row. As for the Seahawks, their defense needs to step up. Jamal Adams has done a lot of talking about his group of guys, it's time for them to back up those words. 
Prediction: Seahawks 23-10
Tampa Bay Buccaneers (11-5) versus Washington Football Team (7-9) 
Let this be the first thing that I say about this game; yes, WFT is under .500 and yes they are in the worst division in football but I believe this game will be a lot closer than people expect. All the pressure this postseason is on Tom Brady and the Bucs. WFT comes into this game feeling good with their leaders in Chase Young and the Comeback Player of the Year in Alex Smith. An underrated defense and the great Ron Rivera will cause Brady a bit of trouble. If the WFT had a bit more firepower on the offense side of the football I would honestly risk it and put my money on Washington, but that's not the case so Brady pulls through and gets his first postseason will in a Bucs uniform in a fun close thriller. 
Prediction: Buccaneers 20-17
Sunday, Jan. 10
Baltimore Ravens (11-5) versus Tennessee Titans (11-5) 
Welcome to the best game of the weekend. Baltimore looks for its revenge after being upset by the Titans in last year's playoffs. My biggest question for this game is how will Lamar Jackson play? Jackson is 0-2 in the playoffs in his career and this game serves as a great test to prove what type of player he is in the postseason. But it's just going to be a back-and-forth dogfight. The Titans already beat the Ravens earlier this year 30-24. Derrick Henry scored the winning touchdown that game and that's what the MVP candidate will do again. Also with the most underrated quarterback in the league, Ryan Tannehill and Henry will win in the rematch. 
Prediction: Titans 30-23 
Chicago Bears (8-8) versus New Orleans Saints (12-4) 
This one isn't going to be close. Mitchell Trubisky will have to do whatever possible to score points on Sunday. Just look at week 17 against the Packers for an example. The Bears lost 35-16 and Trubisky finished 33-42 with zero touchdowns. That's not gonna work against any NFC team including the Saints. There's not much to say for this one; it's just going to be an easy day in the office for Drew Brees and the Saints.
Prediction: Saints 38-10 
Cleveland Browns (11-5) versus Pittsburgh Steelers (12-4)
Look, if you were to have asked me a week ago what I thought about this game, I would have confidently said that the Cleveland Browns would get their first playoff win in over 26 years. But with an outbreak going on in the Browns facility and Head Coach Kevin Stefanski out with COVID-19. I just think it's going to be very hard to pull off a win here without your Coach of the Year candidate. With both teams going 1-1 against each other I think it will be a close game. 
Prediction: Steelers 27-21
About the Writer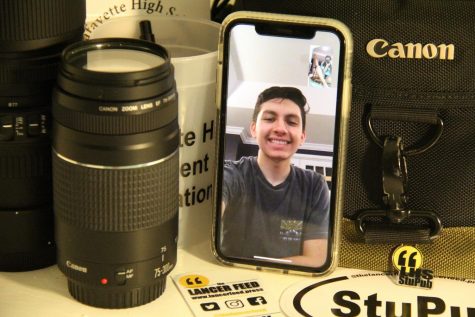 Kevin Vera, Sports Editor
Kevin is a senior, and this is his second year on the digital media staff and his first year on the news production staff. When he is not reporting, Vera enjoys watching sports, working out and listening to music. After high school, Vera plans to major in journalism and pursue a career in sports broadcasting....