Review: 'Happiest Season' offers more than holiday cheer
*This review contains minor spoilers for Happiest Season.
Happiest Season opens with a classic holiday montage, telling the love story of Abby (Kristin Stewart) and Harper (Mackenzie Davis). Abby later buys an engagement ring, revealing her plans to ask Harper to marry her. Once the two decide to spend Christmas with Harper's family, Abby decides to pop the question on Christmas morning. But her plans are disrupted by Harper's revelation that she never came out as gay to her parents.
As Abby and Harper pretend to be just friends, their relationship quickly struggles, with Harper spending time with her family and reconnecting with her friends from high school, and Abby sticking out like a sore thumb.
Harper's quirky, dysfunctionality provides consistent comedy with plenty of interesting dynamics. Harper and her sister, Sloan (Alison Brie), are in constant competition for their parents' love and attention, with their other sister, Jane (Mary Holland), standing out as the sweet, quirky, overlooked sister.
Struggling to make it through the holiday, Abby calls her best friend, John (Daniel Levy), for advice, emotional support, and sarcasm. Levy shines as surprisingly heartwarming comic relief. Abby also meets Riley (Aubrey Plaza), Harper's secret ex-girlfriend from high school. The two women bond, sparking arguably more chemistry than the main couple.
Abby and Harper's arrival marks the main conflict, but the movie is rounded out by several other sub-plots involving everyone around the main couple. All of these storylines escalate towards a big Christmas Eve party, which proves to be a satisfying climax to the movie.
The clear defining trait of the movie is its writing and directing. Clea DuVall's directing employs a quick pace, making every moment count, allowing for less than two hours to feel like so much more. Clea Duvall also served as a writer for the film, alongside Mary Holland. The dialogue deals with heavy topics, but always manages to depict them realistically, even Harper's family's prejudice is portrayed in a subtle and realistic way.
As for the soundtrack, the music of the film has classic holiday feels. The background music is subtle, so as not to overwhelm the dialogue, but the still helps create the overall heartfelt tone of the movie. The movie showcases many songs, but none are particularly epic, but rather mostly understated.
With a cast as notable as Happiest Season's, acting was a very important part of the movie. Kristin Stewart gave a rather dry performance in the lead role, but two of the other leading ladies, Mackenzie Davis and Aubrey Plaza, gave incredibly nuanced and heartfelt performances.
Daniel Levy, although his part was somewhat minor, embodied a memorable character in a stand-out performance. Harper's family, played by Victor Garber, Mary Steenburgen, Alison Brie and Mary Holland, all gave solid performances that added to the realistic tone of the film, with each actor portraying their character in a believable and realistic way.
The film is groundbreaking for LGBTQ+ representation, but not only in front of the camera. Clea Duvall, the writer and director, identifies as a lesbian and has a long history of working for LGBTQ+ progress. Star Kristin Stewart chooses to not label her sexuality, Victor Garber, who stars as Harper's father, identifies as gay and Aubrey Plaza identifies as bisexual. The soundtrack is especially groundbreaking, with several original songs performed by LGBTQ+ artists.
The multitude of complex characters all drives towards the climactic Christmas Eve party, with the movie embracing the classic aesthetic of a snowy holiday. As secrets are revealed, and emotions run high, one thing becomes clear: there's more than one black sheep in this white Christmas.
It is hard to sum up Happiest Season. Is it a fun holiday rom-com, a heartwarming coming out story or a depiction of family dysfunction? The truth is, it's all of these things and more. Happiest Season is filled to the brim with holiday cheer, but underneath all of that is a very human story about love, family, hardships and acceptance. And that is what makes Happiest Season a must-watch for this holiday season.
About the Writer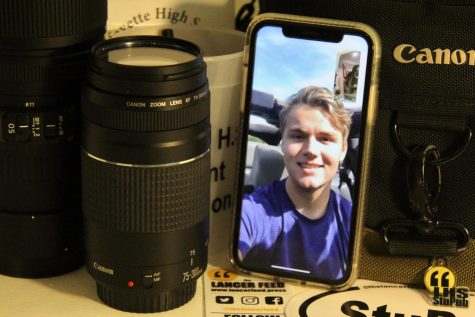 Jack Daws, Asst. Editor
Jack is a junior, and this is his first year on the news production staff. Outside of Student Publications, Daws loves playing football, volunteering and watching TV. He can be contacted at [email protected]