MOVIE MANIAC reviews Halloween (2018)
Sequel proves to be better than expected
Hang on for a minute...we're trying to find some more stories you might like.
I'm senior Jacob Ward and I am a bit of a movie buff. I have loved movies since I was born, it was just one of the things I've been raised on. It wasn't until I was about 11 years old that I realized movies are something that a large team of people make, and I wanted to be part of that process one day. Brilliant minds like Steven Spielberg, Alfred Hitchcock, Francis Ford Coppola and many other directors who put their vision on a big screen have been a huge inspiration to me. I am excited to share my opinions in this new segment, "Movie Maniac." I will review new and upcoming films and report back to you if they're worth your time and money.
I've recently experienced the new Halloween (2018) in theaters this weekend and let me tell you I was not disappointed.
The movie stars: Jamie Lee Curtism reprising her classic role as Laurie Strode; Judy Greer, as the daughter Karen Strode; Andi Matichak, as granddaughter Allyson Strode; Will Patton, as officer Hawkins; and Nick Castle reprising his classic role as the shape aka Michael Myers. John Carpenter steps down and David Gordon Green steps into the directing chair in this new remake. However, John Carpenter decided to return as executive producer and scored the music for the film.
After many years of disappointing sequels and remakes, Michael Myers is back in his truest form. This film, placed 40 years after the original Halloween in 1978, wipes out all the other sequels. Instead, this movie says it is the only sequel to Halloween. So all the other Halloween timelines never happened. It's confusing I know.
Let's talk about the performances of the film. They definitely aren't special or characters we haven't seen before. However, that's the point really. We're not supposed to care about all of the characters some of them are just simply there to be killed by Michael Myers.  But hey, they did that pretty well.
Jamie Lee Curtis brought an amazing performance to the film as expected from such a great actress. She brought a lot of emotion and character arc to Laurie Strode as a traumatized victim who's trying to fight back against the very evil that threatened her in 1978. The granddaughter character, played by Andi Matichak, surprisingly also had a pretty good performance. She's a relatively new actress to the business so hopefully she gets more roles.
The other characters are pretty much disposable and cliches that we've come to expect from slasher films nowadays.  
The greatest thing about this film are all the throwbacks to the original Halloween it had whether it be camera shots, music, atmosphere, etc. When the opening titles came on it just gave me chills when I heard the classic John Carpenter score and a similar title sequence from the original film. The cinematography was even set up to have the same aesthetic of the original and unknown fear factor of Michael Myers and what made him so scary in the first place. Hardcore fans of the Halloween franchise will absolutely love this film.  
There are some issues that people might have with the movie. Besides some of the less than intelligent cliched horror movie characters we've come to expect, the climax of the film is something that some audience members might not exactly be all on board for.
No spoilers but if you see the movie you'll know what scene I am talking about. I thought it was a pretty clever turn the movie took, but others might say it was lazy writing and just a plot device to propel the story to the third act. Which it was a plot device, but it was cleverly done I feel and definitely wasn't something I expected, so round of applause screenwriters. The gore factor was also amped up quite a bit but the film still maintained some of the same modesty of showing the kills that the original film had.
Overall, I am happy to report that this was a really good film. It's worth the price of admission, and I'm excited to see it again to analyze the film further. I'm going to give the movie Halloween 2018 4 out of 5 claps.  
About the Writer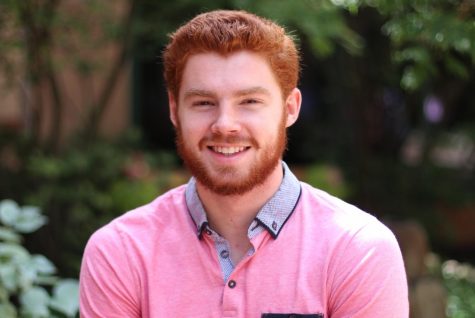 Jacob Ward, Staff Writer
Jacob Ward is a senior, and this is his second year on staff. Jacob has done cross country and track. Outside of school, he enjoys lifting, running, photography, reading, and writing. When he gets older, Jacob would like to work in either film or journalism. He can be contacted at jward065@rsdmo.org.