NHS inducts 198 new members in revised ceremony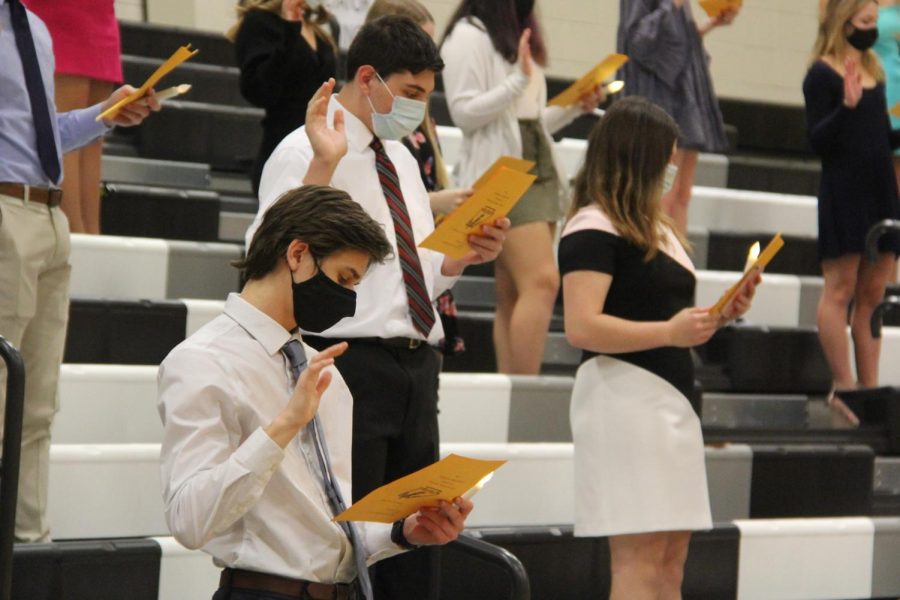 For some juniors being inducted to the Lafayette chapter of National Honor Society (NHS), it meant more than just a good mark on their transcript to appeal to colleges.
Junior Tom Richards said, "I was bullied when I was little for taking school seriously, and now I'm finally receiving the benefits of taking school seriously for a lot of years and it's nice."
Richards, as well as many other inductees this year, have worked hard for their placement in NHS, and are proud of their achievements.
World Language sponsor Brian Fish, NHS sponsor described NHS as "an organization that recognizes students for outstanding scholastic achievement, strength of character and evidence of leadership and service."
The application process required a maintained 3.5 GPA, timed essay, five different teacher recommendations and provide examples of prior service and leadership within the community.
Despite the unusual circumstances created by COVID-19, the juniors and seniors in NHS have stepped up to the challenge and have continued to help the community through all the confusion. 
On Nov. 19 at 2:15 p.m., NHS held its annual student induction ceremony to welcome new members. In total, 112 students participated in the induction ceremony, though there were a total of 198 inductees this fall.
The ceremony followed all of the guidelines required to maintain COVID-19 mitigation guidelines put in place by St. Louis County and the Rockwood School District.
To abide by these guidelines, Fish had to make several changes to the annual ceremony, which like so many things, became dramatically different than what it has been in previous years.
For example, no parents were permitted to attend, attendees were required to remain socially distanced and the ceremony was conducted in the Gym during the afternoon to provide more space. In addition, students exited and left as soon as they received their certificate. In other years, the event takes place in the evening in the Theater with a reception for new members and their families afterwards.
However, the event was live-streamed on Rockwood's website for those who were unable to attend and watch in person.
Many new members did not know what to expect from the ceremony; nonetheless, they were all still excited to be officially recognized as new NHS members.
Before the ceremony, junior Jade Alvarez said, "I'm a little nervous, but mostly excited."
This was a common sentiment among the new initiates as they waited in a long line that stretched through the Commons to the Welcome Center, as they prepared to enter the Gym and find their seats which were spread throughout the bleachers.
The ceremony consisted of four speeches given by NHS officers Rebecca Atteberry, Jeffrey Chan, Sarah Locke and Landee Wasson.
Before each speech, the officer lit a candle to represent one of the four pillars of NHS which are character, scholarship, leadership and service).
In a typical ceremony, each inductee also receives and lights a candle which they then blow out at the end of the ceremony. Fish, explained the candles as being "indicative of them lighting those initiatives in themselves." 
This year, new members were not permitted to use candles due to the risk posed by people pulling their masks down and blowing them out. Fish said, "We provided them with a battery operated candle that they could keep."
All the inductees also recited the NHS oath in unison and then Fish read the names of each inductee as they walked across the Gym to accept their certificates.
Though there were many changes in the event, students were still pleased with the way the afternoon turned out, despite all the restrictions in place.
Junior Kate Fischer said, "I was a little disappointed, but I think overall they did a very good job in making everything possible."
Fischer's comment was a good indicator of how most inductees at the ceremony felt.
Junior Blake Micek said, "I think it was still nice. I mean it's a celebration for us, and I think they did a really nice job with what they had."
Fish said the induction ceremony is always a special moment for students. "I enjoy seeing students being recognized for doing their best in many aspects of their life, and I like seeing them get involved in the school and local community to help others in need."
These are the students who were inducted this fall: Fall 2020 NHS List
About the Writer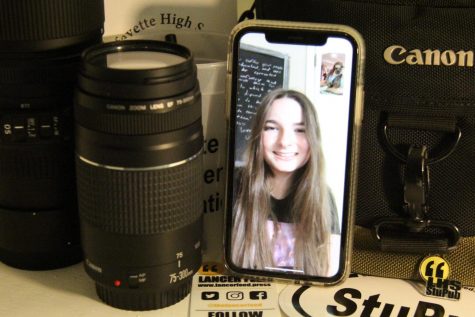 Keira Coverdell, Staff Reporter
Keira is a sophomore, and this is her first year on the news production staff. Outside of Student Publications, she plays tennis and enjoys reading. She can be contacted at [email protected]