Five Questions with Andrew Arciszewski
Andrew Arcizewski is a senior and is enrolled in Guitar Ensemble this year with Traci Bolton. Guitar Ensemble is the highest level guitar class at Lafayette and involves more complex playing skills as well as allowing students to write and produce their own music.
Bolton said, "Andrew is a really cool person.  He is currently in Tuesday Night Rock Band and has played in the Jam bands for the past two years."
Q: How long have you been playing guitar?
A: I have been playing guitar for eight years.
Q: How many guitars do you own?
A: I own eight guitars. A PRS custom 24, two custom Fender Strats, Gretsch 6120, two custom Teles, Gibson Les Paul and a 12-string acoustic.
Q: What inspired you to pick up a guitar?
A: I really loved the music that was associated with it and just loved to express myself and mimic the artists that I enjoyed listening to.
Q: What is your favorite genre of music to play and why?
A: I personally love to play blues music because it's almost like I'm having a conversation with my guitar. It's becoming an extension of me while playing, it's a weird feeling.
Q: Why do you enjoy playing guitar?
A: Guitar is an outlet for many things, whether you are feeling sad or happy it's a way to get all of those emotions out and express how you feel and when you are able to do that on guitar it's a life-changing experience and that's a big reason why I love playing it so much. Music also becomes a lot more fun to listen to because you will be able to pick apart different things that are happening.
Arciszewski also performs with Tuesday Night Rock Band. Members include seniors Arciszewski and Miracle Mitchell, juniors Trevor Duncan, Trey Trapani and Rachel Vishion and freshmen Lucas Brown and Mark Schultheiss. Check out a video produced by the band below (courtesy of Traci Bolton).
About the Writer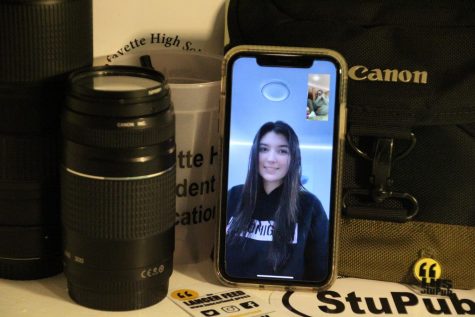 Olivia Moran, Staff Reporter
Olivia is a senior, and this is her first year on the news production staff. When she's not writing, Olivia can be found hanging out with friends, looking at cars or blending frappuccinos at Starbucks. She can be contacted at [email protected]