Out and About: How to spend your afternoon in the Delmar Loop
For those who yearn to escape West County and spend an afternoon in the city, a trip to the Delmar Loop is a great option to eat, explore and shop. Though several places have closed their doors due to the pandemic, like the Melting Pot, the Loop still offers many great opportunities to get out of your house safely.
Fitz's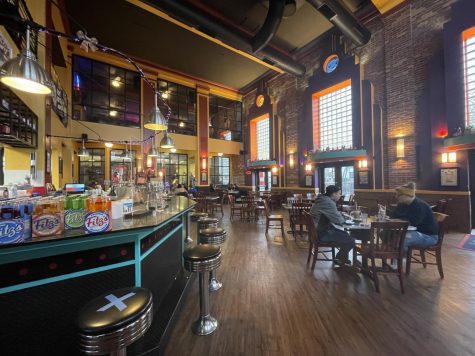 My first stop was Fitz's, which is known for their root beer and root beer floats. Fitz's, which has been around in St. Louis since 1947, offers freshly bottled root beer, bottled right in house.
Inside, you enter an industrial-style room, with a brick wall in-sight as you are seated at your table. This location also offers a second level for dining, with upstairs and downstairs bar areas.
In terms of entertainment, the restaurant offers a live viewing window of the soda bottling and on the upper level, houses TVs by the bar and a billiards table to create a kid-friendly bar atmosphere.
Perhaps the best part of the Fitz's experience though is the soda and the food. When you look at the digital menu, many options come up. As for the food aspect, you can never go wrong with any of the burgers on the menu, especially the classic Bottler's Burger, which offers a simple burger with lettuce, tomato, onion and pickles with a side of fries, slaw, pineapple or baked beans. If you are in the mood for a different flavor, the Blackened Caeser salad really excels in the simplicity yet boldness of the flavor.
It truly isn't a Fitz's experience though if you pass on a soda or root beer float. Personally, my favorite soda is Cardinal Cream but any soda you choose will be worth it. For those who are more conscious of their diets, they also offer diet root beer.
The root beer floats are big, filling and oh so Instagram worthy. Unless you feel up to the challenge, I would recommend you bring someone else to split it with you, due to the sheer size of these tasty giants. You can go for a classic root beer float, or you can spice it up with a S'mores float, which is topped with chocolate ice cream, marshmallow fluff, chocolate sauce, graham cracker and whipped cream. With the variety of different options there is likely something for you on the menu.
As far as COVID-19 concerns, masks are mandatory until you are seated, and there are barriers at the bar and between booths. As of now, there are very limited outdoor seating options.
Vintage Vinyl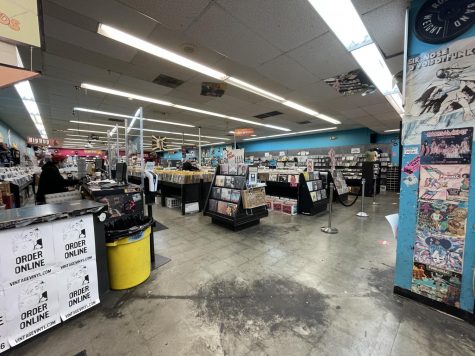 Vintage Vinyl offers a little something for all sorts of audiophiles. Even if you don't collect CD's or LP's, the atmosphere and vintage vibes are enough to bring you inside.
The interior is filled with crates of both new and old records, and some new and old CD's. You are almost always able to find what you are looking for, unless you are looking for a smaller artist, which they may not have. If that is the case, going to the artists website and looking for LP drops would be the best bet for you.
The music selection isn't the only thing that separates Vintage Vinyl from other record stores. They offer new and used turntables to get you started if you want to start collecting.
If none of this interests you, it still is a great spot to get some trendy photos inside.
Avalon Exchange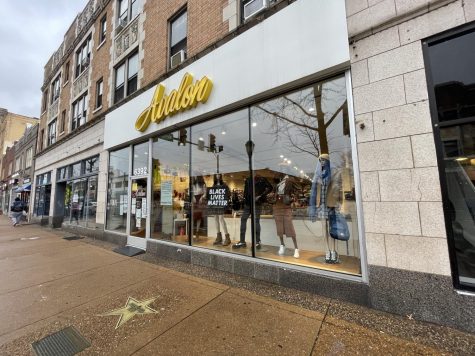 With the amount of fast fashion shops along Delmar, one would think that this would be the same thing. Well, Avalon is anything but a fast fashion shop, being the only thrift store in the Loop.
Walking in, you would be surprised about how many items this smaller space actually holds.
Being in the Loop though, the prices are actually quite high for a thrift store. A nice jacket you can get at a Goodwill for $4 will run you $14+ at Avalon. The pant selection is extraordinarily average, with overpriced goods that will last you a wear or two before falling apart.
One perk to this shop though, and its redeeming quality is its jacket section. Although there usually isn't that much wool, there is one thing that will last you and is really hard to find used: fur.
Fur coats, when properly taken care of will last for generations, and make for a great family heirloom item. Those who worry about the ethics of buying fur need not worry, second hand fur does not promote the current fur trade.
Other than the jackets, which are moderately priced, depending on the condition, you are going to find stylish in trend shoes, which are a must for anyone trying to keep up on all the trends.
So visit for sure, but don't expect your trip to be a typical cheep thrift store outing. Masks are required to be worn properly during the entire time of your visit.
About the Contributor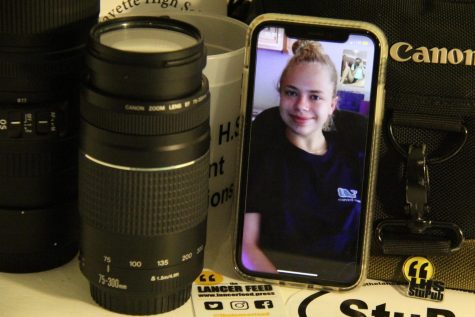 Sophia Scheller, Staff Reporter
Sophia is a senior, and this is her third year on the news production staff. If she's not taking photos, she can be found playing lacrosse, collecting vintage typewriters, reading or cuddling with her dog. She can be contacted at [email protected]