Last Time I… choreographed a winning routine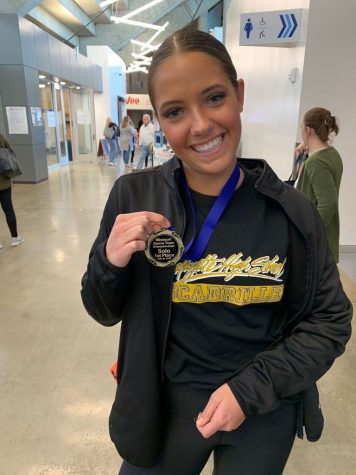 Not many people can call themselves a top Missouri dance team soloist and even less can achieve this status with their own choreography.
However, this is the case for sophomore Ainsley Moses, who recently won first sophomore solo at State with Varsity Escadrille.
The dance team competed at State in Kansas City on Feb. 28 and Feb. 29. along with their group dances, many of the dancers competed with solos.
Moses was thrilled, rather than anxious, to compete with her own choreography for the first time. 
"It was my first time [performing my own choreography], and it was super fun.  I wasn't too stressed because I was pretty confident in myself and it helped that everyone supported me in choreographing my solo, so it was nice," Moses said.
Going into State, Moses already had a win on her shoulders from a previous competition at Saint Charles, where she won first place with a solo.
Moses likes to do a few things before performing her solo to prepare.
"I stretch, then I do a little ballet warm-up because I've always done ballet, and it helps me.  Then I put my headphones on and listen to the music and get in the zone," Moses said.
After her warm-up, Moses was eager to get on stage to dance.
"I never really get nervous before I dance.  I'm always more excited. I never get super stressed, unless it's for a turn or something. I feel like [other dancers] always say things like, 'Oh my gosh, I'm so stressed,' before they dance but I'm always so excited," Moses said.
After her performance, Moses felt confident in her performance.
"I was really confident. I felt pretty good about it. The turns went well, even though the floor was slippery," Moses said. 
Moses was happy to hear that she, as well as her other teammates, scored very well.
"When I won first sophomore solo, I was super excited and everyone on our team did really well so it was really rewarding to see," Moses said.
Moses found that competing at State was a great experience and that it taught her a valuable lesson.
"It showed me that I need to believe in myself, that I can perform well and overall it just gave me a lot of confidence," Moses said.  "As a team, not only did State bring us together, but it was super exciting when everyone congratulated me and it was super rewarding."
About the Writer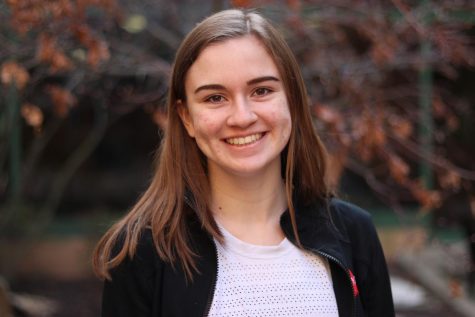 Aliyah Studt, Staff Reporter
Aliyah Studt is a sophomore, and this is her first year on staff. Outside of publications, she dances competitively with Renee Johnson's Dance Studio and is in Key Club. Aliyah can be contacted at [email protected]