Students, teachers balance caring for kids with ALP
Quarantine challenges families with children to figure out how to keep kids entertained, while doing their own work
During the COVID-19 outbreak and quarantine, more families are staying at home together.  With this curveball to the usual school schedule, LHS teachers and students are working to figure out how to care for their kids and siblings.
Sophomore Caroline Black has four siblings, one of them being her five-year-old brother, Bradley.
"My stepdad works five days a week at the hospital, so he's required to go [to work]," Black said. "My mom works from home, but she's still pretty busy."
To help out at home, Caroline has been helping out by doing things like going to the grocery store and ensuring that Bradley is entertained.
"We all chip in to help occupy him when it's needed; with his iPad and playing games on there, but also going on walks, watching movies and trying to help him catch up on things he would've been learning [at preschool]," Black said.
Black acknowledges how her home environment affects how she works on her ALP classes.
"Having four siblings in the same house has definitely been a challenge," Black said. "When it comes to school it's sometimes hard to block out the noise from everyone and take time to focus."
Another LHS student, senior Paige Daws, has had her online schooling affected by extra responsibilities caring for kids.
Daws nannies her neighbor's three kids, since their mother is a perinatal nurse and their father works in the Emergency Room (ER).
She has many responsibilities to take care of when caring for the 1-year-old, 5-year-old, and 7-year-old kids.
"I make them breakfast and I let them play on their iPads," Daws said. "I make them lunch and a snack and then we play outside with chalk and do puzzles, things like that."
Daws also helps the older two pace themselves with their learning.
"I help the 1st grader with his online homework and make [the older two kids] both read for 30 minutes a day," Daws said.
As for her own schooling, Daws has not seen many changes since she nannies.
"My school life isn't really [been] affected other than not being able to make zoom calls sometimes," Daws said.  "Most of my teachers have assignments due at midnight and give us a couple days to do them, so I haven't had much trouble."
Teachers with sons and daughters are also having to find ways to balance caring for kids with school.
Photography teacher Meghan O'Donnell is a mother of three kids, a 1-year-old boy, 5-year-old girl and 7-year-old boy.  With the quarantine, O'Donnell has had to manage parenting and teaching with the Alternative Learning Plan (ALP) simultaneously.
"We do a lot of art projects, not just because I am an art teacher, but because they love creating things," O'Donnell said. "We go on walks, play games, face paint and play in the backyard."
The presence of her kids has made working harder, but not unmanageable.
"[Balancing caring for kids and working] has not been that bad.  They get on each other's nerves, yes, but for the most part, when I work, they work," O'Donnell said. "[My youngest child] has had the hardest time adjusting and likes to hang on me constantly throughout the day.  Most of what I need to get done on laptops is done during his nap time or when he goes to bed for the night."
Despite the confusing time, the O'Donnells have found their ray of hope and positivity in the situation.
"This is such a terrible time for our community, but the one bright light through this whole pandemic is that I am with my family and we are making memories, priceless ones," O'Donnell said.
About the Writer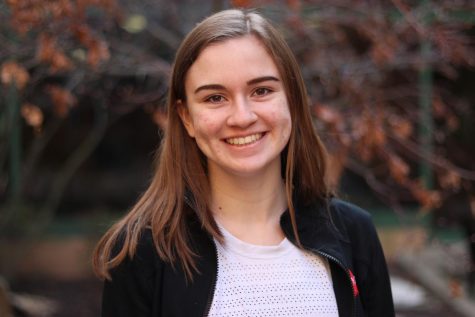 Aliyah Studt, Staff Reporter
Aliyah Studt is a sophomore, and this is her first year on staff. Outside of publications, she dances competitively with Renee Johnson's Dance Studio and is in Key Club. Aliyah can be contacted at [email protected]