Seven tips and tricks for surviving Busch Stadium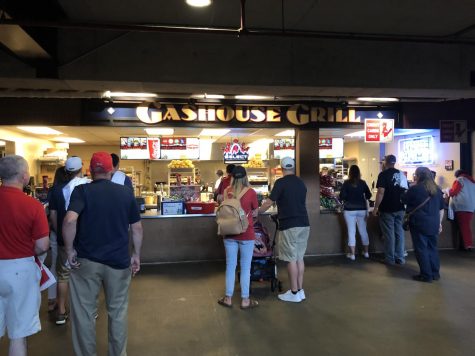 On Aug. 22, my friends and I made our way down to Busch Stadium to cheer on the St. Louis Cardinals as they played against the Colorado Rockies. The game started late due to rain, but the Cardinals won 6-5 in the end. With that win, the Cardinals swept the Rockies in the last three games of the series, propelling them to take first place in the division over the Chicago Cubs.
While I was there, I navigated the stadium with ease. Being a Cardinals fan had been in my blood for generations, and I've been going to games ever since I was born. As I was walking around the stadium, I noticed that there were many people crowding areas while looking at signs telling them where things were. It wasn't what I was used to seeing, although it made sense.
Busch Stadium is a giant place with many things to do. With the Cardinals leading the division and having a good chance of making it deeper into the playoffs, there are bound to be new faces at the stadium who haven't had any experience navigating the stadium, so here are my top seven tips and tricks for surviving Busch Stadium.
Have a plan.
That much should be obvious. Downtown St. Louis is rarely kind to those who do not know what they're doing. Figure out the best way to get to Busch Stadium with plenty of time before the game. That includes knowing where you're parking, and knowing what gate you need to go in through so you're not walking around Busch Stadium for an hour trying to find your seats. There's parking garages of almost every corner around the stadium for your convenience, and they cost about $20 each.
Get there early.
This could go hand in hand with number one, however, there are bonus perks to getting to a game early. If you had purchased a themed ticket, or you just happened to go on a giveaway night, you could have the first picks of shirts, bobbleheads, rings and more. Once you're there early, you have time to find the bathrooms and maybe buy a piece of merchandise or two. Also, if you get to the game early and bring a baseball, you can go down to the area right next to the Cardinals dugout and a couple players might sign the ball before the game.
Bring in your own snacks and drinks.
Contrary to popular belief, outside food and drinks are allowed in Busch Stadium. Drinks in a clear plastic bottle are allowed and can be carried in a soft-sided cooler. Most snacks are allowed into the stadium, but no outside food is allowed in the Cardinals Club, luxury suites, party suites or any all-inclusive areas.
Pay attention to the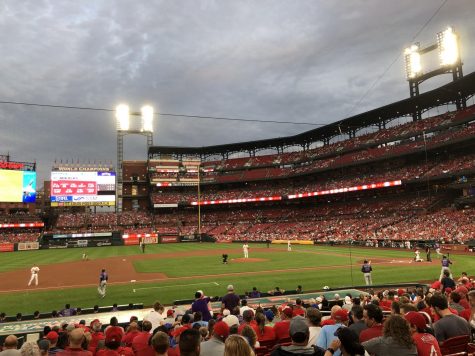 big screen.
The big screen will tell you everything you need to know about the player and the game. From averages, to fun facts about the team, the big screen has it all. It also has a script of what is said for those who are hard of hearing or deaf. Some companies will even advertise special deals for those who were at the ballpark. Those interested can take a picture of the big screen or text a special code to a number.
Most of the restaurants are the same.
Unless the place has a specific food theme, like nachos or hot-dogs, most of the foods in places like Dizzy's Diner and Gashouse Grill have the exact same food and deals as anywhere else in the stadium. Condiments for all kinds of foods are found in the middle of the walkways.
Beat the lines.
Everyone decides to leave to go get food or use the restroom at the exact same time every inning, and it's right after the Cardinals finish the inning. If the situation allows it, leave your seat after the team up to bat gets their second out. Obviously, avoid that when the bases are loaded or if it's a close game. Leaving at that time allows you to beat the lines and get back into your seat plenty of time before the next inning. Be sure to bring your ticket with you everywhere you go though, ticket ushers are placed to make sure that you didn't sneak into the game or move to better seats all throughout the night.
Have as much fun as you can.
As simple and cheesy as it sounds, having fun is one of the best things that can happen at Busch Stadium. Cheer on the Cardinals, do silly things to get you and your friends on the big screen, participate in the seventh inning stretch and sing "Take Me Out to the Ball Game," anything that makes you happy. Busch Stadium is one of St. Louis' most beloved places, and it would be a shame not to enjoy it.
St. Louis is a baseball town through and through, and part of that is amazing aura that comes with visiting Busch Stadium. So, as we enter playoff season, use this guide to make your experience the best that it can be, and let's go Cardinals!
About the Contributor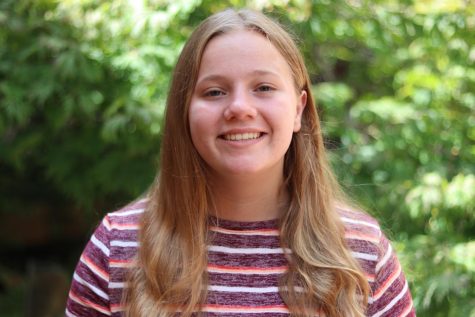 Morgan Vehige, Sports Editor
Morgan Vehige is a sophomore, and this is her second year on the Image staff. When she's not in the newsroom, she can be found playing softball at Lafayette, or hanging out with friends. Morgan can be contacted at [email protected]