Five Questions with Ashley Shaw, horseback rider
Hang on for a minute...we're trying to find some more stories you might like.
Senior Ashley Shaw answered the following questions about her experience riding horses:
What originally got you interested in riding horses?
My sister and I have been obsessed with horses ever since we were little kids, and when I turned five, my parents finally signed both of us up for riding lessons. Now it's thirteen years later and I can't imagine what my life would be like without horses.
About how much time do you spend at your barn a week?
I ride six days a week year-round, so during the school year I'm at the barn for three hours a day during the week and about six hours a day on the weekend. During the summer, I'm out at the barn six hours a day every day.
What type of competing do you do?
On one of my horses I compete in show jumping, and on my other horse I do what's called hunters. Both disciplines involve jumping, but they are judged differently. In show jumping, the goal is to complete a set course of jumps as fast a possible without knocking any of the jumps down, which incurs "faults." The rider with the fastest time and the least amount of faults wins. In hunters, you also compete over a set course of jumps, but it is not timed and it is judged on the horse's style, kind of like figure skating. It is the rider's job to show off their horse's style as best they can by controlling their pace, track, and approach to the jumps.
What is your favorite part of riding?
My favorite part of riding is my connection with the horses. To be able to communicate with them and understand them without the exchange of words is a really special feeling, and I feel bonded to my horses in a way that is truly unique. Horses are amazing creatures; I feel so fortunate to have them in my life. I don't know where I'd be without horseback riding. It's no secret that high school is tough, both mentally and emotionally, and I fully believe that riding is what has gotten me through it. Knowing that I'm going to see my horses after school is what motivates me to get up in the morning. No matter how terrible of a day I've had, my horses can always put a smile on my face.
Do you plan to continue horseback riding in college?
I do! A handful of schools have DI NCAA Equestrian Teams, one of which I've been accepted to, and numerous other schools have Club Equestrian Teams, called IHSA (Intercollegiate Horse Show Association) Teams. I don't plan on bringing either of my horses with me to college because I don't think I'll have time to give them the level of care they deserve, so riding on a college team is a great choice because I can ride when I have time without consequences to the horses if I don't have time. I want horses to be part of my life forever, so I'm very grateful that colleges offer ways for me to continue riding in school.
About the Writer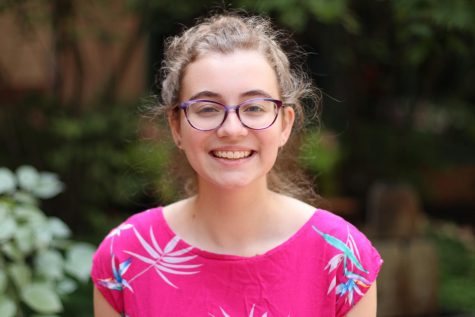 Melina Hudak, Staff Writer
Melina served on staff for one year before graduating.