Out and About: Sauce on the Side
Hang on for a minute...we're trying to find some more stories you might like.
Now inhabiting a nondescript building off of Clarkson Road is Sauce on the Side, a unique eatery serving fresh calzones with, as the name so clearly suggests, the sauce on the side.
Upon entering the establishment, guest's eyes are more than likely drawn to the striking art on the walls. The four locations around the St. Louis area all share this trait, as well as a cool-casual atmosphere.
The process of ordering can be compared to places like Crushed Red or Chipotle, where guests order at a counter as opposed to being served by a waiter or waitress. And just like the two chains aforementioned, Sauce on the Side offers a variety of seating options: booths, tables, bar counter and patio.
The chalk board-style menu can easily overwhelm you upon your first visit, but the friendly staff are more than happy to answer any questions. Fifteen different calzones are offered on the regular menu, not including the rotating monthly special. Some options include traditional Italian ingredients such as the pepperoni, meatballs and ricotta cheese used in the "Fatty B". More unorthodox entrees are offered for the more adventurous of patrons; the "Cock-a-Doodle Noodle" is made with mac n' cheese, roasted chicken, pancetta and provel cheese. For those who like to pick and choose, you are able to select from a variety of meats and vegetables, as well as eleven dipping sauces, to create your own custom calzone.
As a customer, your order always comes out in a timely fashion. The crust of the calzone itself is crunchy and light, making it a breeze to cut through. Since each calzone is made to order, picky eaters can ask for ingredients to be added or excluded at their own discretion. Each calzone bares a hefty amount of ingredients, so the fact the sauce is served on the side rather than in the entree itself acts to make the dish less heavy, and prevents the sauce from drowning out all of the other components. Calzones typically range from around 9-11 dollars.
About the Writer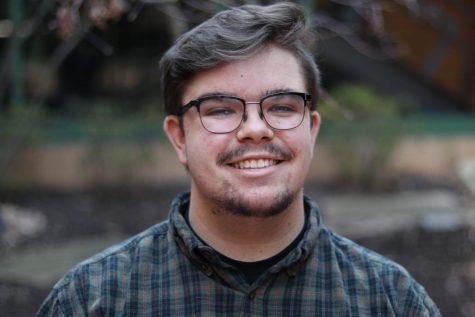 Travis Bodell, Editor-in-Chief
Travis Bodell is a senior, and this is his third year on staff. Outside of school, he enjoys thrift shopping, eating at hole-in-the-wall restaurants and waiting tables at his part-time job. Travis wants to focus on journalism and graphic design in college, and would like to work for an advertising firm...