Koziatek appreciates early exposure to desegregation
Hang on for a minute...we're trying to find some more stories you might like.
During the heat of the Civil Rights Movement, the town of Alexandria, Virginia became enveloped in controversy due to the integration of T.C. Williams High School.
The desegregation of high schools in this area led to the creation of the movie Remember the Titans, based on the true story of the integration of the football team and their journey towards acceptance and equality.
Math teacher Marietta Koziatek was living in Alexandria during this contentious time.
Koziatek was born in Miami, Florida and moved to Alexandria in 1969, where she only lived in for approximately five years.
Although Koziatek was only about seven or eight years old at the time, she still felt the impact the desegregation brought on the community.
"The people I was exposed to were incredibly supportive and understood the need for education equality and the need for desegregation in our community. Since I was such a little girl and I went everywhere my parents went, I wasn't exposed to the big controversies- although I heard about them through what the adults in my life were saying," Koziatek said.
Being the oldest of her sisters, she did not have a sibling in high school at the time. Although she didn't have a direct connection with T.C. Williams, she learned of the controversies through the conversation of her parents as well as through her peers in her elementary school.
"I was at Patrick Henry Elementary at the time and more than experiencing the actual Remember the Titans, it was the conversations people were having because schools in Alexandria were completely segregated," Koziatek said.
Before the infamous high school was built, all schools at the high school level were segregated.
"They decided they would build this beautiful high school called T.C. Williams and they decided everyone would go to T.C. Williams, that it would be a fully integrated high school and there would no longer be two separate high schools," Koziatek said. "The problem was that all the schools that fed into T.C. Williams had really good football teams and they had different coaches. A lot of that unrest came from merging those teams and the coaches."
Although the well-known movie focuses mainly on the football team, it was not the only focus of the town.
"It wasn't so much the actual football team, it was more that they were creating a school and completely integrating it," Koziatek said.
Despite not directly being involved with the team whose actions inspired the reputable film, she feels the impact on her life was still monumental.
"They were really cool conversations to hear as a little girl, the conversations that my parents were having with our neighbors and our friends. I was really fortunate in that no one in my family or my neighbors were opposed to it," Koziatek said. "It was more that you could see it was controversial. In my family [integration] was not a big deal,"
Additionally, Koziatek experienced the Civil Rights movement up close through her next-door neighbor, Bernard S. Cohen, one of the attorneys for the Supreme Court case Loving v. Virginia.
In 1958, Richard Loving and Mildred Jeter violated Virginia's ban on interracial marriages, eventually making its way to the Supreme Court on June 12, 1967. It was ruled that all states were to lift all bans on interracial marriages, effectively becoming a landmark in the Civil Rights movement.
"He was our friend, our neighbor. I found out as an adult that he was one of the American Civil Liberties Union [ACLU] attorneys that represented the Lovings in the interracial marriage case that went to the Supreme Court," Koziatek said. "I think that this was one of the reasons this was even a conversation is because he was a huge champion for the civil rights movement in the United States. This is why we had these conversations."
Through witnessing the extremely controversial integration of T.C. Williams, as well as being in an accepting environment, Koziatek developed her beliefs on equality at a young age.
"I do really marvel at the fact that I was exposed to those events and I was extremely fortunate to be exposed to those events as a child and see it through the eyes of loving parents. It made me keenly aware to how riffed our society was and how unfair it was," Koziatek said.
Reflecting on her past experiences, Koziatek is thankful to have been so close to the infamous situation.
"I was so lucky that my parents and our family and friends were able to witness it through eyes that helped us see the injustice of segregation and how important it was for the community to stand together," she said.
Ever since experiencing the integration of T.C. Williams, Koziatek knew she wanted to pursue a career in education.
"It made me realize the power that education has in helping create stronger communities," Koziatek said.
About the Writer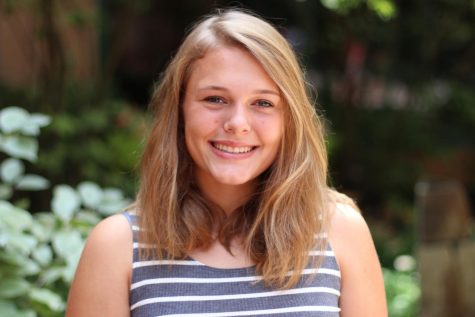 Delaney Stulce, News and Features Editor
Delaney Stulce is a junior, and this is her third year on staff. She enjoys playing lacrosse, listening to music, reading and, of course, writing. Delaney can be contacted at dstulce037@rsdmo.org.